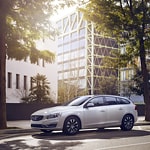 When drivers in Lubbock are talking about high-end luxury vehicles, they are talking about cars with numerous features that set them apart from the competition. This is certainly no different when it comes to the Volvo V60 Inscription because this luxurious sports wagon is the pinnacle of safety and comfort.
Inside, you will find lavish leather surfaces throughout to keep you perfectly comfortable on long family road trips. Plus, its incredible styling is further enhanced through the addition of a sophisticated Harman Kardon audio system to keep you entertained.
Outside, you will find even more features that have made the Volvo V60 Inscription an exceptionally popular wagon. The chrome-lined exterior is one of the defining features of the Volvo V60 Inscription. This exclusive detail truly does make this vehicle shine when on the road to make it clear to everyone that you are driving a high-end machine. You can see what makes this vehicle so popular today by taking a test drive here at Mears Mazda Volvo.